Born on November 23rd, 1896, in Rochester, NY, prolific artist and teacher, Emile Albert Gruppé also known as Emile Gruppe or Emile A Gruppe; was raised in what was obviously a positive artistic environment. His family's household produced not only himself, but also Emile Gruppe's brother, Karl, a noted sculptor; Emile Gruppe had another brother, Paulo, a cellist; and his sister, Virginia, a watercolorist. Their father, Charles Gruppe, a painter and picture dealer, encouraged the children in their studies from an early age, and provided them with significant opportunities to study abroad in their artistic pursuits. Emile Gruppe had this same passion as his father and sought out to seek a future in art. Creating the Guppe legacy that we know today.
Though born in New York, Emile Gruppe was raised in Holland, in the small fishing village of Katwyk an Zee. Charles Gruppe had settled the family in Holland when Emile Gruppe was young in order to operate his business as picture dealer, securing contemporary Dutch paintings for sale in the American market. During this time, the Gruppe family made frequent and extended trips to popular painting locales in Holland, and Emile, watching his father paint Barbizon-inspired landscapes, learned the rudiments of painting and drawing in this way. By 1913, however, amid fears of escalating tensions in Europe, the Gruppés returned permanently to the United States
Emile Gruppe had formal training which began in Rochester, where his parents apprenticed him to a sign painter, but he soon thereafter sought out instruction further afield. In New York City, he attended classes at the National Academy of Design, and later at the Art Students League, where he studied under Charles Chapman and George Bridgman. In Provincetown, Massachusetts, Emile learned from landscape painter Charles Hawthorne at the Cape Cod School of Art, and in Europe, Emile Gruppe studied under Richard Miller at the Académie de la Grande Chaumière. His most influential teacher, however, was John Carlson, with whom Emil studied at the League's summer school in Woodstock, New York. It was "John Carlson who turned me into a painter," said Emile Gruppe, who also felt it was Carlson who taught him to see all "the pictorial possibilities of a subject."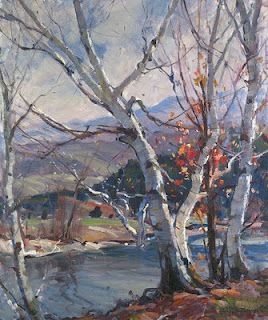 His style, which began in the tonalist manner, changed over time into a bolder, more robust impressionism, which became his hallmark. By the 1930's he was well-known and well- established in the art circles of his day. His energy and dedication to his art, made of him a prolific artist, which enabled him to show throughout the United States. Whether painting in his adopted hometown of Gloucester, Massachusetts, at his studio in Carnegie Hall in New York, or at his vacation retreats in Jeffersonville, Vermont or Naples, Florida, Gruppé was at his easel every day creating his expressive, direct paintings. It is rumored that he completed about two-hundred oil paintings a year in this manner, during a career which spanned sixty years!
Applying the same dedication he had reserved for his picture-making to teaching, Emile Gruppe founded the Gloucester School of Painting in 1942. Located on Rocky Neck in East Gloucester, Massachusetts, the school boasted an impressive faculty which included not only Emile, but also many of his own teachers. Bridgman, Carlson, Miller, and Chapman all joined Gruppé in his summer school, and their well-attended lessons continued until 1979. Gruppé's own weekly demonstrations were the highlight, however, providing a "no-miss" event of circus-like proportions, where the exuberant Gruppé shared all he knew with crowds often numbering over one hundred attendees.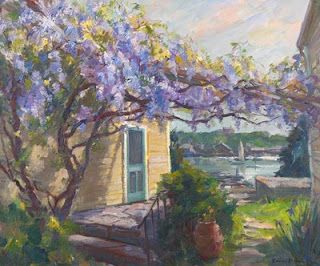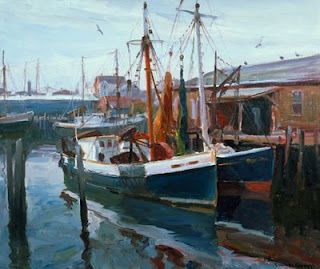 Though he suffered a stroke in the early 1970s, Emile Gruppe continued to paint and give weekly demonstrations until his death on September 28th, 1978. Even on that last morning, Emile had stretched a canvas in preparation for a day filled with painting. He was 82 years old.


Emile Gruppe will forever be known in american art. There is not an american art fine art gallery who would not love to have his paintings grace their walls. Emile Gruppe painting prices have peaked in 2008. Since then they have slowly declined but leveled off. His works of art range from $700-$25,000. Some people ask for more. Such as those in a fine art gallery. Emile A Gruppe appraisals can be done by contacting us here. If you are in the market to purchase or sell an Emile Gruppe painting, please speak to us for a free consultation.